YAKERS, keeping dogs occupied for longer.
Made to an ancient Himalayan recipe, perfected over hundreds of years from our 100% natural ingredient, yak milk. YAKERS are the ultimate 100% natural dog chew and occupier that will have your dog wagging their tail in delight!
Crafted with care, these chews not only provide endless entertainment but also offer a range of health benefits for dogs. With YAKERS, you can bid farewell to plaque and tartar troubles, as these chews promote dental hygiene. Packed with the goodness of protein and calcium, they ensure a nourishing treat for your dog. Best of all, these chews are low in fat, and free from preservatives and gluten, catering to the dietary needs of your dog.
What sets YAKERS apart is their extra long-lasting nature, offering pet parents the benefit of a distracted dog when tasks need to be done. A good chewing session can also help prevent destructive chewing behaviour for anxious dogs and puppies, helping pet parents save their furniture and shoes.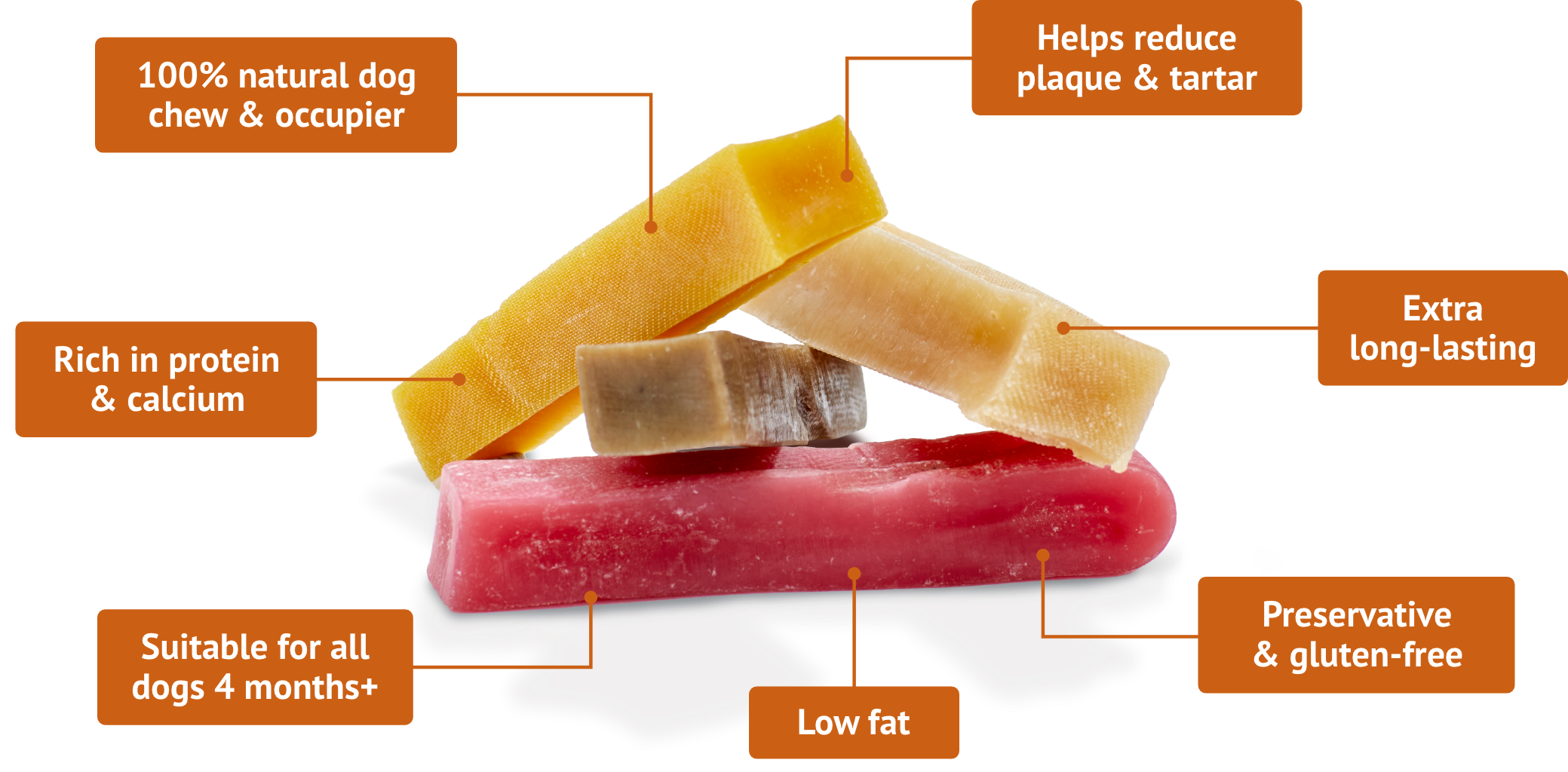 My dogs absolutely love these and they last a very long time. Great for when they need some quiet time."
Sarah S
24 June
At last a chew my dogs can't destroy in minutes"
Jonathan Pryke
8 May
My puppy loves these and it keeps him happy and occupied "
Joanne Curtis
17 January
This chew keeps my young border terrier occupied for quite a while. The only chew I have found that he enjoys as much."
Mary
April 2023
Absolutely love these, the treat that just keeps giving. Used to get through chews so quickly but takes his time with this, loves carrying it around with him to find a good spot to lie down and spend the afternoon chewing."
WhatTheHecPoodle
July 2023
Yak chews are fantastic. My standard 8 mths old dachshund loves them. They are entertaining her for very long time and small pieces are microwaved so there's no waste and she loves it. Healthy chew."
Aleks
July 2023
Cockapoo loves these – chews through them in a couple of hours though- but good for some peace and quiet! Chuck the end in the microwave and it turns into a large popcorn- also very much enjoyed."
AMJ
February 2023
I brought these for my 3 dogs and they love them. They are also really good value as they last a very long time."
Jackie
July 2023
Meg loves these. When she gets tired she goes for a sleep and comes back to it. A good distraction for a single dog living in an elderly home."
Mary
March 2023
Become a Stockist
Interested in stocking YAKERS?
Get in touch with our dedicated team for more information.

Learn more